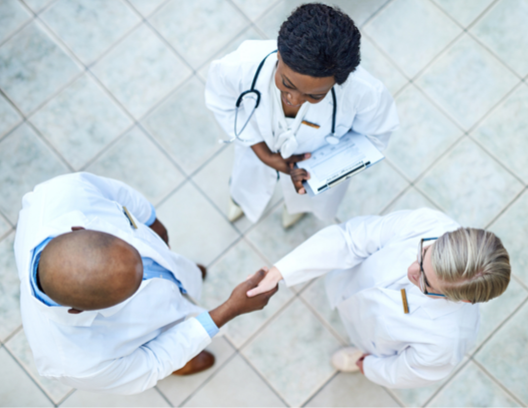 The healthcare landscape continues its march toward value-based care amidst much political and regulatory uncertainty. When it comes to provider compensation, striking the right balance between physician expectations and healthcare organizational needs in an ever-changing environment requires a nuanced and thoughtful approach.
It is as important as ever to attract, engage, and retain the right provider talent. It is just as important to align compensation with your organization's mission and goals in a way that is fiscally sustainable. We recently hosted a discussion on this complex issue. Here are five takeaways to help your organization navigate toward a winning provider compensation arrangement.
Craft a Strategic Plan
The old adage remains true: fail to plan, plan to fail. Whether you are fine-tuning or completely revamping your compensation model, asking the right questions will help you develop a roadmap for achieving a firm foundation of appropriately structured provider incentives. Key questions to ask at this stage include:
What are we looking to accomplish?
How does it align with our organizational vision and objectives?
What does a successful end goal look like?
What impact will the new plan have on each provider, our bottom line, and future sustainability?
It is important to invest the necessary time, resources, and personnel toward the planning process. However, keep in mind that it's not necessary to reinvent the wheel. Seek out useful and relevant case models with similar needs and characteristics. By modeling strategies from proven models, it is possible to achieve success while minimizing the use of vital resources in the planning process.
Follow these six steps to guide your efforts toward creating reward strategies that support the operating priorities of your organization:
Determine organization deficiencies
Create a solutions panel
Select a finite number of testable solutions
Assign responsibilities
Measure progress
Plug and pull solutions as needed
Instill Strong Leadership
Employees don't quit their jobs, they quit their leaders – providers are no exception to this sentiment. The best-laid plans cannot be effectively carried out unless those in charge possess the integrity and due diligence to guide the strategy to fruition.
Compensation is a personal matter for everyone involved – it's no surprise that discussions about compensation planning can be contentious. A purposeful communication and change-management strategy facilitated by effective conflict resolution and a supportive leadership team will help rally providers around shared goals.
Strong leadership and physician engagement are essential to successful outcomes. An effective leadership team will encompass a culture of communication, knowledge, and follow-through. As leaders demonstrate a true commitment to success and championing provider needs, providers will become engaged and feel a sense of trust and gratitude toward their leaders.
Involve Providers in the Dialogue
The healthcare industry is experiencing provider burnout, disengagement, and turnover at unprecedented levels. And it's no wonder: providers are facing crippling education debt, struggling to keep up with productivity models, and still striving to provide the best care to their patients. All these factors will bog down even the most efficient provider. A deeper understanding of the provider experience should be fundamental to a compensation model that takes into consideration all these circumstances.
Involving physicians in the Physician Compensation Committee is critical to the development of a compensation plan that works. Participation will ensure valuable input from the providers' perspectives and will improve acceptance of the new plan. By offering your providers a seat at the table, you will bridge the communication gap and create a culture of teamwork. Furthermore, the higher level of dialogue will help overcome some of the barriers that prevent healthcare organizations from providing efficient, high-quality care that maintains the health of the populations they serve.
Leverage MGMA Benchmarks
Metrics and financial variables play a significant part in the creation and financial management of physician compensation. The best way to validate your strategic decisions is through data comparisons, market surveys, and comparable provider rewards analyses. Benchmarking is a powerful tool that can help you remain competitive in the current healthcare market. With MGMA, you can take advantage of four types of readily available benchmarks, which address specific KPIs, metrics, and useful tools to help assess, measure, and plan an effective compensation model.
Before you agree to a specific benchmark, be sure to confer with your leadership team. Work together to figure out which model accurately addresses your organization's needs. Test out a variety of benchmarks and metrics to discover which are the most suitable. Trial and error are fundamental to running an innovative and forward-thinking organization. MGMA benchmarks are an ideal solution in that they are evidence-based and will save time when implemented properly.   
Execute the Plan
While this step may seem obvious, many organizations fail to translate their strategy into an actionable plan. This can be due to fear of the unknown. Change can be painful; however, financial bleed out as a result of inertia or disengaged providers is worse.
Having a plan on the shelf is not enough. Once you've crafted a compensation strategy, be sure it includes clear, operational-level plans and actions that will result in its execution. Leave room for the necessary adjustment along the way. In time, you will realize a financially healthy organization that satisfies both patients and providers.
Bottom Line
Healthcare in the U.S. is in a perpetual state of change, and the financial implications are clear. Now more than ever, healthcare organizations are on the hook financially, both in terms of provider compensation and patient reimbursement. These two are not mutually exclusive. Strategically restructuring provider compensation can stave off provider fatigue, improve provider engagement, and drive business performance, while ultimately improving patient care and satisfaction. Be proactive in your provider compensation model to reap the benefits of a positive financial forecast within your organization.
HealthPay24 helps healthcare providers solve their revenue cycle challenges with predictive analytics and patient financial engagement. To learn more, contact us today.