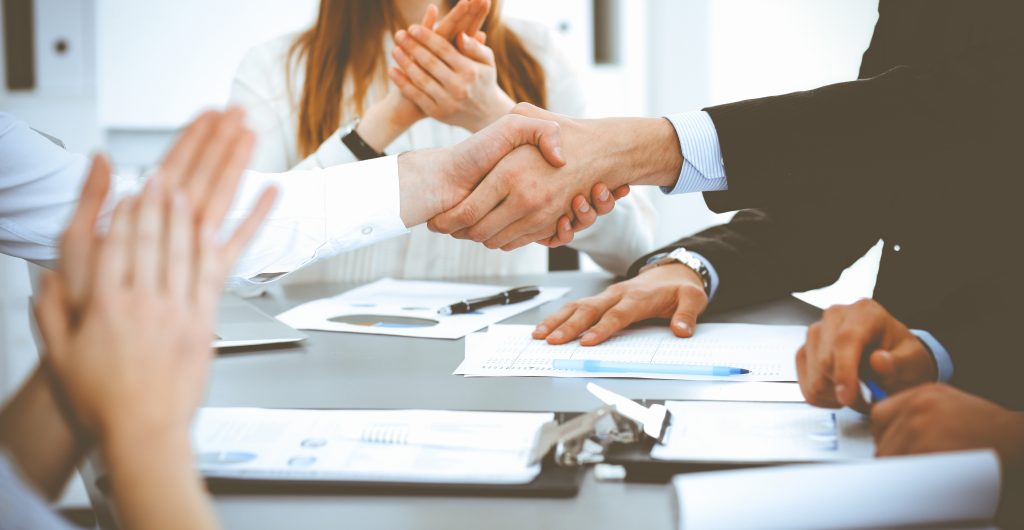 November is the month of Thanksgiving, that wonderful season when we set aside time to be with our families and express gratitude. I am truly blessed to have plenty to be grateful for in both my personal life and my professional life.
It is truly a privilege to hold the position of CEO for HealthPay24, and I am very thankful to be surrounded by a dedicated, creative team. As I reflect on 2019, I'd like to take this opportunity to express gratitude for three key business partnerships we have established over the course of the year.
Each of these partners brings a level of commitment and integrity that enable a solid foundation of trust. They also share key values with HealthPay24 that I believe will help carry out our vision of building a stronger ecosystem in Health IT.  As we move forward into 2020 and beyond with developing these partnerships, I wanted to share why I am grateful for the unique capabilities that each brings to HealthPay24.  
Shared purpose and passion
What do we want to accomplish together? How do we go about meeting our objectives? A shared purpose and passion are essential ingredients for long-term business relationships.
CURAE™ is a technology solution that enables healthcare providers to offer unique financing options for their patients. Our partnership is built around the shared purpose of giving patients options when it comes to meeting their healthcare financial obligations. Thanks to this innovative technology solution, together, we are making care more accessible, alleviating a significant amount of the stress related to paying for care, and minimizing the risk providers bear for uncollected payments. 
I am also grateful for the level of passion and energy that the leadership at CURAE brings to the table. The enthusiasm our teams share for the impact we want to make in healthcare fuels our motivation, creativity, and drive to work toward the best possible outcomes for all stakeholders.
Complementary strengths
Ideally, a great partnership brings strengths that complement each partner. With MasterCard®, we have discovered a symbiotic relationship for which I am grateful.
The leadership at MasterCard® brings a deep understanding of how to leverage data in new and better ways. Their Test & Learn® technology uses machine learning and predictive analytics to help providers determine optimal billing strategies and capture more patient revenue.  
The marriage of MasterCard Test & Learn with the HealthPay24 patient engagement platform is truly an ideal match. Through an initial pilot program, we've proven that understanding patient payment behavior and being proactive with offering the best payment option drives incremental revenue and improves revenue cycle management.
Inspirational leadership
Our most recent partnership is with Papaya, which offers a convenient payment app that patients can use to simply snap a picture of their bill and choose a payment method – the app takes care of the rest.   
Papaya is a hyper-growth technology company, which is no surprise. The leadership exudes intelligence, commitment, and compassion when it comes to getting the root of a problem and finding a real solution.
Through this business relationship, not only am I grateful that HealthPay24 is able to take another step in delivering exceptional payment experiences, but I am also humbled by the opportunity to work with leadership that is genuinely inspirational.
Last, but certainly not least
I cannot close out 2019 without mentioning our ongoing partnership with EPIC. I value their thought leadership in Health IT, and their recognition that interoperability with complementary platforms is critical to the provider and patient experience.
HealthPay24 is grateful to be a member of the App Orchard for 2 years and was honored to attend the annual EPIC User Group Meeting this year. We greatly appreciate being included in these programs and look forward to partnering with EPIC for many years to come.
A business cannot sustain success through the contributions of an individual, but through the efforts and collaborations of many partnerships – with co-founders, leadership teams, employees, customers, and business partners.
As we move through this season of Thanksgiving, let's all take the time to contemplate our feelings of gratitude and express appreciation for our business partners. William Arthur Ward put it best: "Gratitude can transform common days into thanksgivings, turn routine jobs into joy and change ordinary opportunities into blessings."