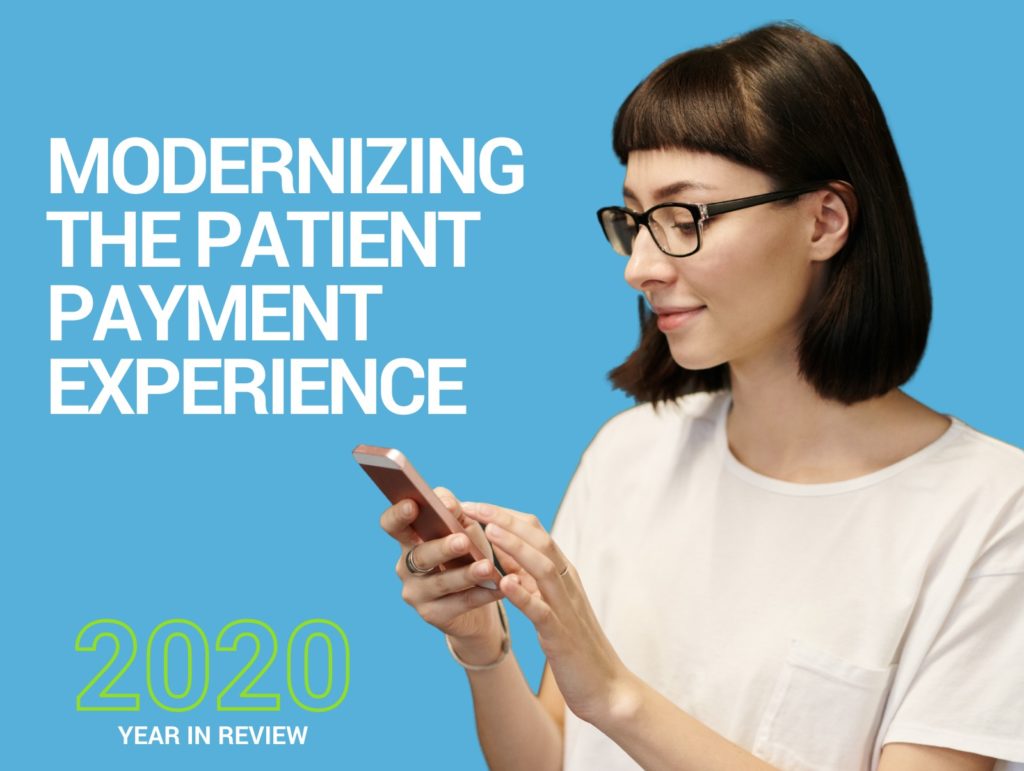 2020 has been a year of unprecedented change. In the early months, we set out to address the issues and trends we expected to see throughout the year, like payment alternatives as high-deductible plans become more prevalent and a shift toward mobile-first patient payment solutions. By the end of March, of course, the focus had shifted dramatically. We were seeing traditional approaches to the patient financial experience evolve to a digital landscape, and concerns over costs for providers in the wake of COVID-19 took center stage. Now, as the year comes to a close, we want to use what we've learned in 2020 to better prepare you for the trends and changes we predict will take precedent in 2021, from policy shifts to digital payment security measures and strategies in pre-service payments. Let's take a look at the most notable content from 2020 and how it sets the stage for what's to come in the new year. 
Early 2020: Addressing Patient Payments Amidst the Rise of High-Deductible Plans
At the start of the year, we introduced you to one of the year's most prominent trends: an uptick in high-deductible healthcare plans. The prevalence of these types of plans means a greater out-of-pocket burden for your patients. In turn, this leads to an increased risk of underpaid or unpaid collections. Healthcare providers, to better serve their patients and protect their bottom lines, needed a smart, efficient, and cost-effective solution. The answer we provided was two-fold.
First, we introduced you to non-recourse loans and our partnership with Curae. Curae offers a powerful tool that provides your patients with payment alternatives for satisfying their healthcare bills. Not only is it quick and easy for your patients to apply for a variety of loan options without impacting their credit, but Curae also integrates seamlessly into the HealthPay24 platform so they never have to leave the site to get more information or apply. High-deductible plans aren't going anywhere, and with the financial impact of the pandemic for many patients, trustworthy loan partners and easy-to-use options are more important than ever. In fact, estimates have the percentage of patients who are not expected to pay in full at a whopping 95% in 2020. But the numbers also suggest that patients may be more likely to pay if they're given loan options. Ninety percent of patients say they'd return to a healthcare facility that offered them. So, it doesn't just benefit your patients; these loan options can increase the likelihood that your bills are paid in full and improve patient loyalty.
The second solution is integrating a platform that prioritizes a mobile experience. Since 2018, healthcare providers have seen a 63% increase in mobile payments. That number is only likely to rise, especially as surveys indicate around half of all patients would switch providers if they found one who offered a more user-friendly mobile payment experience. With HealthPay24, you get a patient financial platform that's already optimized for the most seamless mobile experience, including self-pay options and the option to use a digital wallet.
Between its partnership with Curae and the seamlessly integrated mobile payment options, HealthPay24 is designed to make it as easy as possible for your patients to pay their bills in full so you can keep your revenue stream consistent.
How COVID-19 is Changing the Healthcare Financial Landscape
It's fortunate that mobile payment solutions were already gaining popularity by the time COVID-19 reached the US. It meant that many healthcare providers were at least one step ahead in being prepared for the impact the pandemic has had on how the healthcare industry operates. But the ways in which COVID-19 has helped to modernize the patient payment experience goes beyond just a mobile-first approach. On a broader scale, touch-free options became not only more common but highly necessary for safety reasons. This is when HealthPay24 introduced the Text-to-Collect feature.
Text-to-Collect allows providers to send an SMS message to your patients, showing them their balance and directing them to a one-stop, secure link from which to make their payment. This has a variety of benefits. For one thing, this type of approach is much preferred among a growing percentage of patients. It's fast, easy, and can be done, of course, right from their mobile device. It also gives you the opportunity to present patients with their balances at the pre-service stage of their patient journey. This, in turn, offers price transparency, a quickly growing priority among patients, and allows patients to better prepare for their financial burdens in advance.
In general, the healthcare industry recognized the need for and implemented a variety of digital-forward alternatives to the traditional, high-contact and face-to-face methods of care, from payment collection to appointment setting to follow-up. Digital options may be more efficient, but shifting to these alternatives can potentially result in an increase in costs for providers. To offset the necessary changes, providers needed ways to improve their cost reduction strategies. More than that, some providers needed a roadmap they could follow in order to design and implement effective cost reduction management strategies.
That roadmap is pretty straightforward, and along the way, it incorporates options like a heavier reliance on digital solutions while cutting down on essential staff. The first step to solving a problem is always identifying it, so make sure you assess your current situation and enumerate the goals you hope to achieve in reducing costs. Be reasonable with your expectations, but be specific. Benchmarks are easier to hit when you make them clear and attainable. We also recommended looking for cost reduction opportunities in overhead, specifically when it comes to potential redundancies in any department. Eliminating a large number of small redundancies can have a significant impact on your cost reduction efforts. But don't just choose departments that are easiest to overhaul. Look at what areas of your operation cost the most and see if there are ways to make them more cost-effective. Finally, tracking your progress in real-time and being prepared for any result, usual or unusual, is key to successfully reducing costs. Consider not just real-time numbers, but also trends from past years and predictions in the coming ones. Cost reduction management is a never-ending strategy, so make sure you're always assessing your efforts to make sure they're still working.
Trends in Policy and Politics to Expect in 2021
The pandemic and its consequences aren't likely to go away, but it's difficult to predict how it will impact trends in healthcare in the coming months. However, what we can do is consider areas and issues that coexist with and may be affected by the pandemic. To that end, we've already gotten to work addressing what trends and concerns we expect to see in 2021.
At the top of the list of trends for 2021, health coverage is a hot-button issue. In the wake of COVID-19, it was all too easy to see where the failures and areas for improvement existed in access to affordable care. Like early in 2020, high-deductible plans will be a major topic of conversation, and we can expect these conversations to have an impact in how policy is addressed going forward.
Along the same lines, price transparency is gaining ground and already policies are being enacted that mandate healthcare providers to share the costs of their services publicly. Regardless of what kind of health coverage a patient has, the vast majority of them want to know what the cost of their care is, and they want to know prior to receiving that care. The days of sticker shock for patients receiving hospital bills are slowly going to become a thing of the past, and we can expect price transparency to continue to impact policy in 2021.
Another consequence of COVID-19 was a spotlight on scope of practice for healthcare providers. Overrun hospitals needed a way to care for the influx of patients, and the result was a reliance on nurse practitioners, physician assistants, and so on to pick up the slack. The rules governing SOP are created and implemented at the state level, and even before, but especially during, the pandemic, many states had relaxed some regulations for non-physician healthcare professionals. Now that the need to have these types of practitioners on hand has been demonstrated, we can expect policies that govern them to evolve as well.
The future of programs like Medicare and Medicaid may also be impacted, both because of the pandemic and the current state of politics. A change in leadership always has an effect on nationally instituted programs, and with the highly charged atmosphere of this election cycle in particular, we can expect these programs to be a topic of discussion.
Like we've talked about, a growing reliance on technology has taken place in the healthcare industry. We're not just seeing it in how platforms like HealthPay24 better serve our customers, but technology is becoming more and more important in the exam room and when it comes to providing outpatient care at home, too. Supply chains in the medical system were also unprepared for the impact the global pandemic would have on their ability to manufacture and distribute critical equipment like protective gear. Technology is likely to play a role in preparing supply strategies going forward, but we expect advancements in a variety of ways will likely occur in an effort to avoid similar consequences in the future.
2020 was a year of unprecedented isolation for most Americans. Quarantines lasted months for some states, and social distancing continues to be critical to health and safety. As a result, mental health has become a higher priority than in years past. More patients are coming forward with issues or concerns regarding mental health, and it would be no surprise if healthcare policies and procedures surrounding how we address and treat mental health see changes in 2021.
Optimizing Increasingly Prevalent Digital Solutions
With the digital landscape gaining ground for healthcare providers, the next natural concern has to do with security. Touch-free payments have increased by 40% since the pandemic reached the US. With these types of strategies being implemented more and more at a faster rate than they might otherwise, how are providers ensuring their solutions are secure?
One way, of course, is to implement a patient financial solution like HealthPay24. Our platform is already in compliance with HIPAA regulations, as well as the Payment Card Industry Data Security Standard. These rules help keep patients' health information private and protect their financial information from being hacked. Using a system that already has these strategies and securities in place is the most cost-effective option for many providers: it allows you to offer your patients the ease and convenience they demand without sacrificing the security of their personal data.
A secure system for collecting payments also makes it easier for you to get those payments as soon as possible. Like we mentioned, as price transparency and a higher out-of-pocket burden on patients continue to take priority, a shift toward pre-service payment solutions is going to be critical to maintaining your revenue stream. If you haven't taken advantage of pre-service payment options, now is the time to get started. Most providers indicate that patients take an average of three months to pay their balances in full. Meanwhile, having a pre-service payment option means patients are three times more likely to pay their co-pays and deductibles in full before even arriving for their appointment. As COVID-19 has shown, a reliance on touch-free payment options is crucial, and giving your patients those opportunities at the pre-service level helps keep them safe while better preserving your bottom line.
Conclusion
There's no question that the events of 2020 have shown how drastically an entire industry can change in a year. Healthcare providers have stepped up to the plate to ensure a primarily patient-first experience and, for the most part, you've knocked it out of the park. If nothing else, 2020 has given us the opportunity to identify the ways in which healthcare could improve and helped us to discover solutions that benefit both the patient and the provider.
HealthPay24 offers the tools needed to achieve a higher standard of financial communication, from a point of understanding, so you can deliver the best outcome for everyone. Get in touch with one of our consultants today to learn more.