Hunt Regional Healthcare
Greenville, TX – 181 Beds, Full Service
Large hospital integrates HealthPay24® into its existing EMR and its patient estimation tool, PayNav, to:
Capture More Patient Revenue on Front End
Reduce Costs of Collections on Back End
Streamline POS Collections via Online Payments, Payment Plans, and Prior Balance Collections
The Path to Success
In early 2017, Hunt Regional Healthcare launched HealthPay24® to provide a comprehensive, integrated, patient payment solution to significantly improve POS collections and to reduce the costs of collecting on patient financial responsibilities anywhere from pre-to-post service. Hunt Regional Healthcare also chose HealthPay24 for its expertise in integration. The solution's ability to integrate with Hunt's existing Meditech EMR and its PayNav patient estimation tool, enabled staff and patients to on-board with ease and experience successful results in the first month.
Industry Pressures Strain Patient Access Department
At the time, industry pressures and significant increases in patient financial responsibility, newly insured patients, and volume & provider costs, created many challenges for the Patient Access Department.
Streamlining Workflow to Increase Patient Pay Rates
To improve front-end processes, Hunt used its PayNav estimation tool to operationalize data updates needed to produce dependable patient estimates. Integrating HealthPay24 into Hunt's estimation tool and Meditech EMR streamlined POS collections via online payments, patient self service features such as payment plans, and prior balance collections.
Measurable Results Across POS & Payment Plans
HealthPay24 enables a streamlined process as staff can now collect payments in real-time, reduce transaction fees by collecting on multiple accounts in one transaction, view the patient's entire payment history, compare expected vs. actual payments, all within a user-friendly interface. Patients are experiencing a variety of convenient self service features including online payments, digital payment archives, payment plans and on-call financial counseling.
Improved Payment Process Efficiency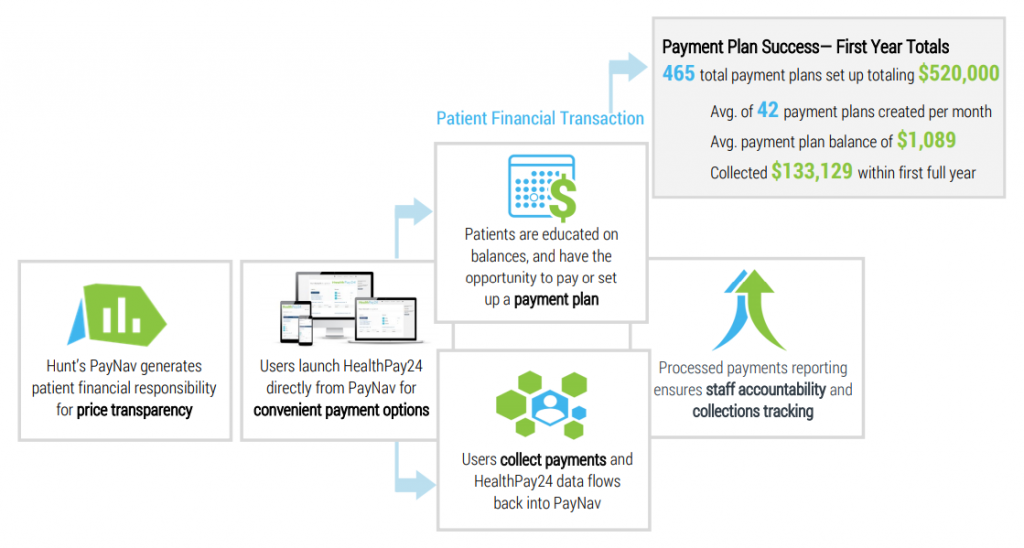 HealthPay24's Impact to POS Collections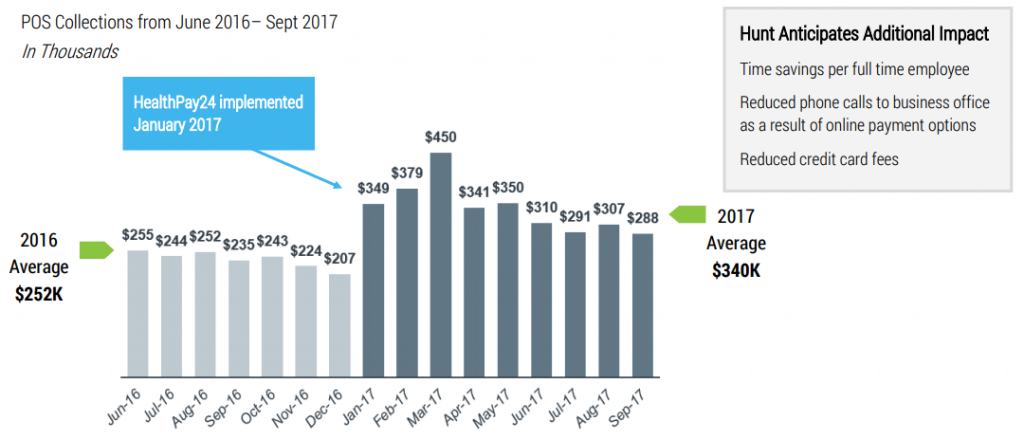 Ready to see what HealthPay24 can do for you and your patients?
Request Demo