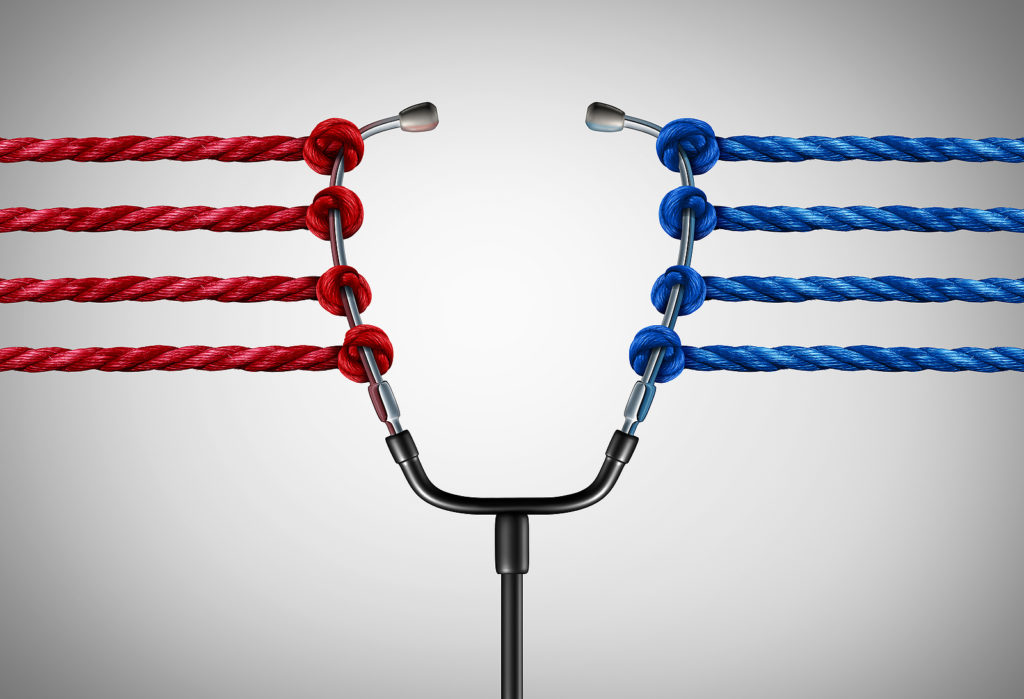 The results of the 2020 election stand to have a major impact on healthcare payment systems and the healthcare industry overall in 2021.
In fact, national polling by the Kaiser Family Foundation (KFF) reveals healthcare is a top issue for voters in the 2020 election. While both sides of the aisle recognize the need to lower healthcare costs while improving quality and access, the presidential candidates hold diverse views on many key health issues.
During every election cycle, stakeholders in the healthcare industry prepare for the potential impact of a new administration's agenda. In a 2017 study, Yale researchers found that politics in the U.S. significantly influences not only specific policies and legislation but also how much money is spent and how it is spent on healthcare programs. With trillions of dollars at stake, it comes as no surprise that healthcare-related industries spend the most on lobbying efforts.
The ongoing COVID-19 public health emergency will play a major role in shaping the policy agenda in 2021. The pandemic has highlighted gaps in access to affordable care that already existed. For example, half of U.S. adults polled in 2019 said that they or a family member had delayed or postponed care because of cost. The loss of jobs, income, and health insurance across the country have exacerbated this problem. In a poll taken in March, 68% of respondents said the out-of-pocket costs they might have to pay would impact their decision to seek care if they had COVID-19 symptoms.
Read More: Learn how healthcare providers are removing barriers to financial services amidst the pandemic and beyond
Here are eight key issues to watch that will impact the accessibility and affordability of healthcare post-election.
Health Insurance Coverage
An estimated 20 million people gained coverage under the Affordable Care Act (ACA), driving the rate of uninsured to an all-time low. The ACA was designed to expand coverage options and reduce high out-of-pocket spending for people without access to employer-based health insurance. However, a large majority of enrollees ended up in high deductible plans.
From 2008 to 2017, the average deductibles for those in employer plans more than doubled. According to Commonwealth Fund's 2019 Biennial Health Insurance Survey, 45% of U.S. adults are underinsured, including many who had health insurance through work or the ACA Marketplace.
With the U.S. Supreme Court set to hear arguments on the constitutionality of the ACA a week after the election, the fate of the statute hangs in the balance. While there is a partisan divide on how to approach the ACA, a clear majority of the American public view the health reform law favorably and do not want to lose the protections it provides for people with preexisting medical conditions.
Additionally, striking down the health law could force hospitals, providers, insurance companies, and drug companies to adapt their business practices, including billing and payment processes.
With concerns about rising out-of-pocket costs and the threat to health coverage amid COVID-19, there will be pressure on the administration and congress to strengthen the ACA if it is upheld, reinstate protections if it is overturned, and develop policies to ensure adequate health coverage.
Read More: Download our Free tip sheet to find out how you can align your healthcare strategy with the ongoing needs of your patients
Healthcare Costs
Not only does the U.S. spend more on healthcare than any other country in the world, Americans spend more out-of-pocket than the citizens of most other countries (second only to Switzerland).
In the wake of the COVID-19 pandemic, the pressure to reduce healthcare costs is greater than ever. Fortunately, there are several solutions that enjoy bipartisan support.
Balance billing protections: The potential for patients to get a surprise bill after inadvertently receiving out-of-network care has grown during the public health emergency. Consequently, the Heroes Act safeguards COVID-19 patients from balance billing. Congress came close to banning the practice altogether last year, but the effort fell apart. While protections exist in 31 states, federal policy is necessary to fill gaps in the state laws.
Prescription drug price controls: High drug prices have dominated the political debate for years. A recent opinion poll from KFF revealed that just over 1 out of 5 Americans believe lowering drug prices should be Congress' top health priority. Lawmakers in both houses of Congress have introduced bills and the presidential candidates have proposals aimed at regulating pharmaceutical prices.
Scope of Practice
Scope of practice (SOP) for healthcare professionals, such as nurse practitioners, physician assistants, and advance practices nurses, is an ongoing and growing area of reform. State legislatures determine the laws and regulations that govern SOP.
Healthcare professional advocates argue that expanding SOP improves access to high quality, affordable care, particularly where there are physician shortages. While key medical associations, such as the American Medical Association, oppose SOP expansion for non-physician healthcare professionals, many states have relaxed restrictions over time to varying degrees.
To extend the capacity of the healthcare workforce to manage COVID-19, many states have temporarily waived SOP restrictions for a wide range of healthcare professionals, including registered nurses, licensed practical nurses, pharmacists, and dentists.
A recent survey from the National Community Pharmacists Association (NCPA), found that during the pandemic, more pharmacies have been offering point-of-care testing, immunizations, curbside delivery, and delivery services. Expanding the pharmacist's role facilitates the implementation of community clinic-pharmacies, which increases patient access to care and will be instrumental in COVID-19 vaccination efforts.
While SOP waivers and expansions were rapidly established to build workforce capacity during the public health emergency, the question of whether any of the policies could be continued beyond the pandemic will be an issue to watch.
Health Technology
There's been a digital transformation in healthcare over the last decade as the development and adoption of electronic health records (EHRs), mobile health devices, application programming interfaces (APIs), machine learning, and other digital health technologies have proliferated. Consumerism has fueled much of this growth, while the federal government has crafted policies to support implementation.
To meet the urgent needs for remote care amid the pandemic, federal regulators and payers enacted temporary flexibilities to facilitate access to telehealth and digital technologies. Now that stakeholders have experienced the benefits, the question has become whether governments and payers will continue to support these solutions beyond COVID-19.
With the recent establishment of the FDA's Digital Health Center of Excellence – a new initiative to support and regulate digital health products – it appears the government will continue to play a major role in shaping the trajectory of health technology beyond the 2020 election. 
Read More: Overcoming Barriers to Health Equity with Technology
Medicare
The future of Medicare is a key issue to watch post-election. The 2020 Annual Report by the Medicare Board of Trustees estimated that the Medicare program will run out of funds by 2026. Of note, the data for this estimated timeframe was collected before the pandemic. Now that high unemployment is depleting the payroll taxes that help fund Medicare, the problem only looms closer. Lawmakers will need to find ways to shore up the program both in the short-term and the long-term.
Beyond the issue of solvency, there is a large divide between how the political parties propose supporting Medicare beneficiaries. Proposals from both sides include:
Broadening Medicare eligibility
Expanding supplemental benefits for Medicare Advantage
Authorizing negotiations of drug prices
Maintaining provisions offered by the ACA that benefit seniors
Repealing legislation that accelerates insolvency
Introducing caps on certain drug co-pays
Implementing a Medicare-for-All or a government administered public option
Medicaid
The outcome of the election will largely determine how federal and state governments respond to helping the poor, disabled, and unemployed access healthcare.
Presently, state-run Medicaid enrollment is spiking as states face falling tax revenues due to the pandemic. While the current administration has mostly supported proposals and policies to limit federal funding and eligibility for Medicaid, there is growing pressure for the federal government to give financial assistance to the states during this economic downturn.
Medicaid will be instrumental in maintaining access to healthcare throughout the public health crisis and the economic recovery. Nearly all states have received Medicaid waivers from CMS and taken other administrative actions in response to COVID-19. Congress passed legislation that requires Medicaid to cover COVID-19 testing and eliminate cost sharing related to testing services. Lawmakers also set up a fund to cover testing for individuals under state Medicaid plans.
Once the public health emergency is lifted and economic recovery is underway, the focus will likely revert to reforms supported by the upcoming administration. In general, this means policies that will either expand or limit federal funding and eligibility for Medicaid.
Healthcare Supply Chains
New trade policies implemented in 2018 included imposing tariffs on goods from China, which disrupted supply chains for healthcare organizations for an array of medical equipment and supplies. The disruptions not only raised costs for all stakeholders in the industry, they also impacted patient access to treatments and medications.
When the pandemic hit, the increased global demand for personal protective equipment (PPE), treatments, and life support coupled with the trade tariffs created shortages. In March, FEMA initiated the Supply Chain Stabilization Task Force to address the limited supply of critical protective and life-saving equipment. The FDA set up a medical device supply chain notifications system to monitor supply levels to prevent or reduce the impact of disruptions on all stakeholders. The success of either of these programs so far during the pandemic is up for debate.
When a COVID-19 vaccine becomes available, a reliable supply chain will be critical to widespread, timely distribution. Some key actions to keep an eye on include:
Changes in trade policies
Creation of a reliable stockpile distribution system
Establishment of a more resilient supply chain that uses multiple sources of supply
Mental Health
Mental health has been a key public health issue, particularly as it relates to political debates around gun control, suicide rates, domestic violence, and substance abuse.
Prior to COVID-19, about 1 in 5 American adults were diagnosed with a mental illness and 1 in 3 with serious mental illness did not receive mental health treatment. A spotlight from Mental Health America's 2021 State of Mental Health in America report reveals a sharp increase in mental health problems and gaps in access to mental health treatment.
The outcome of the election could have a substantial effect on the response to the growing mental health needs in the U.S. While the need to develop policies that increase access to mental health resources is recognized by both political parties, the emphasis and approach to addressing the issues vary.
Conclusion
For the 2020 election, healthcare – one of the most pivotal topics in politics today – is on the ballot. With COVID-19 cases spiking and a long economic recovery anticipated, issues around healthcare access and affordability are at the forefront. Without question, the pandemic and the outcome of this election will shape health policy conversations and decisions for months and years to come.
HealthPay24 is helping healthcare providers and systems create a payment ecosystem that alleviates financial stress on their patients while boosting the revenue cycle during these challenging times. If your organization is interested in implementing a safe, secure, and innovative contactless payment model, you can learn more here. Ready to get started? Contact us today!
Discover how to grow your revenue and increase consumer satisfaction
Learn More